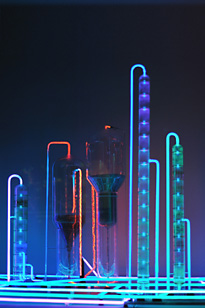 Independent, objective advice on
Middle East petrochemicals and
petrochemical supply chain
Chemical Management Resources Limited provides additional, short-term support and expertise for petrochemical and petrochemical supply chain projects focused on the high growth Middle East.
Independent, objective advice
Business development
Competitive intelligence
Strategy development
Market feasibility
Market entry
Business and technology partner selection
Commercial due diligence
Supply chain costs and service opportunities
Clients
Clients include globally-respected management consultancies, well-known chemical-sector consultancies, major producers, supply chain service providers, 3PL (third party logistics) operators, EPC/FEED contractors, business advisors and investors.
CMRL - thorough knowledge of the
globally integrated petrochemical and
petrochemical supply chain sectors
Leslie McCune
Leslie McCune, as principal deliverer, is a highly-experienced, independent expert with an intimate knowledge of the Middle East petrochemical and petrochemical supply chain sectors.
Clients benefit from his extensive network of contacts in the region and are guaranteed an impartial, independent viewpoint. This avoids the wasted time and cost of blindly exploring the many business opportunity 'mirages' in the region.
A Global Resource
Although focused on the Middle East, CMRL has a thorough knowledge of the globally-integrated petrochemical and chemical supply chain sectors.
Assignments last from a few days to several months and at whatever location is most convenient for the client.